Will Amazon Reach $1,000 a Share Before Alphabet? Maybe: Chart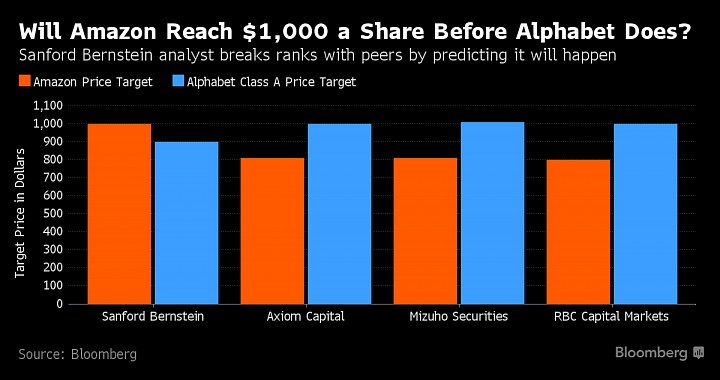 Big oil is dipping a few more toes into clean energy.
Exxon Mobil Corp. is partnering with a company to capture carbon-dioxide emissions from power plants. Total SA, the French oil supermajor, announced a $1.1 billion deal Monday to buy the battery maker Saft Groupe SA, complementing its 2011 purchase of a majority stake in the solar-panel maker SunPower Corp. And the Canadian pipeline company Enbridge Inc. announced Tuesday it will pay $218 million for stakes in offshore wind farms as it attempts to double its low-carbon generating capacity.
While fossil fuel companies have been dabbling in clean energy for years, they typically stayed close to their roots by focusing on ethanol and other biofuels. This round of investments takes them into the heart of the clean-energy industry. As crude prices struggle to recover and growth projections for renewables soar, oil companies see a chance to diversify.
"The supermajors recognize there is going to be tremendous growth in low-carbon sources of energy," said Jason Bordoff, director of the Center on Global Energy Policy...
More